Durabulk
The robust, reliable, cost effective solutions to your micro-bulk delivery needs. Choose from our 3000g/3500g truck mounted or our air ride trailer mounted model. Dura-Bulk uses a hydraulic pumping system that provides extremely high flow, high pressure pumping capabilities with easy access for periodic maintenance. We have eliminated many of the fragile electrical components that tend to fail and we do not include the PLC with automatic pump shutoff. This ensures trouble free continual operation for years to come.
Features Include:
• 3000g chassis mounted, 4200g trailer mounted units with 2-year vacuum warranty
• High pressure/high flow pumping capabilities
• Easy access for periodic maintenance
• Eliminates many fragile components
• All stainless steel piping and stainless steel bolted bonnet valves
• Trouble free operation
Scorpion
The Scorpion is a strong and mighty portable DOT unit available for purchase.  This unit is composed of a durable trailer with a 900 gallon, 250psi, DOT tank, outfitted with the vaporizer for gas use with final line and torch manifold.  The Scorpion can also be used to delivery product and pressure transfer your liquid cans, micro-bulk, and small bulk tanks so that you can control the fills in your market.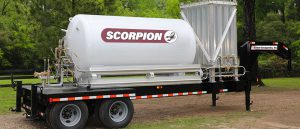 Features
Use as a delivery unit or drop in place temporary supply
900 gallon gross capacity (850 net)
250 MAWP
High flow pressure control manifold
Leveling jacks
Stainless steel lined pressure build coil
7.5K vaporizer
Emergency shutoff valves
Options
Flow meter
Two trailer options
Piping cabinet
For more information on MicroBulk Delivery from Eleet Cryogenics click here.